have you entered my giveaway? enter to win some perfectly posh products and pamper yourself!! monday's the last day!
hey everyone! happy friday. i've been busy doing poshy business, and haven't had really any time to settle down and type! fortunately, they make memes for that :)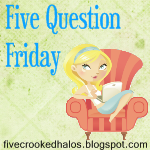 1. W
ho mows your grass?
lincoln military housing. on thursdays. thank you lord!
2. D
o you have a picture wall or picture gallery in your house (show us! <--- my addition to the question)?
i do not. i've been thinking about it for three years, and now we're moving. i'll have to light a fire under my behind and do it at our next home!
3.
What book has influenced your thinking the most? Or, what blog? (I want to read what gets people thinking!)
i enjoyed the shack. and of course the bible, but (for me) that goes without saying.
i'd have to say the MOST influencing book i've read recently was Orthodoxy by G.K. Chesterton. but it's kind of a tough read -- it was written in what is now rather antiquated english. but WELL worth fighting through.
and of course, mere christianity by c.s. lewis. and ANYTHING by tozer.
4.
Do you have allergies? If so, how do you handle it this time of year?
no, not really. occasionally i'll struggle with a stuffy nose in the morning, but vacuuming my mattress has helped with that!
5. W
hat's your go to meal to cook in an hurry?
pasta with ham and peas. i just sautee some onions and garlic, throw in some ham, and pepper and toss it with butter, pasta and peas (i cook the peas during the last 3-4 minutes of the pasta boiling -- i only use frozen or fresh veggies).