Why, good morning friends!
Do you want to know what grinds my gears? Basketball. It is my least favorite of all the sports and, sports junkie Sergeant J is watching the March Madness like it's going out of style.
But do you know what brings me joy?
via google search & pinterest
Spring ball is not enough. But unhindered joy awaits me on the other side of the March madness. ::sigh::
P.S.
I have been a Giants fan my WHOLE. LIFE. I don't mind the bandwagoners though, the more the merrier. And when they drop off the bandwagon and we have another quiet season, I'll be here waiting for them to return. Because we always come back.
Ok anyway. Back to the regularly scheduled activities. I'm linking up with Mama M for Five Question Friday. She was kicking some serious questions over here. I hope y'all stick around for my long winded answers lol! Always a good time :)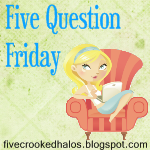 1. What advice would you give a newly married couple?
Be quick to apologize and quick to forgive. I think that about sums it up!
Seriously though. The most important thing to remember is to communicate! With each other and with the Lord. I mean, this is our biggest hang up. When the Sarge is grumpy, my mind always makes it something I did. Or, when I'm mad and I think silence is telling him everything he needs to know... I'm being immature and often petty. When we talk to each other, most of our "problems" dissipate because they weren't problems at all (just
PERCEIVED
problems). So talk! Talk to each other every day, about more than what bills are due or what's for dinner. Chit chat. Joke together. And when you're upset, TALK. And if it's an argument, fight fair. And when you can't see eye to eye, talk to Jesus. He'll put you in your place.
A second thing I'd say for us ladies is NEVER down talk your hubby to anyone, ever. Not even him. Not even your mom. Not even your BFF. Not even your sister. Not in public, not in private, NEVER. It is damaging to you (and him if he ever finds out, and then you again). Don't do it.
2. Who does more laundry around your house?
Me! Sergeant J will do it when he feels like I'm slacking, so... never.
3. What items, if any, do you prefer to buy organic or make yourself?
I TRY to stick to the dirty dozen when budget is an issue (I don't always) -- that is

a
pples, cucumbers, potatoes, celery, bell peppers, berries, peaches & nectarines, spinach, grapes, and lettuce (did I miss something?) but when I don't have budget as a concern I buy organic food boxes which are 100% local and organic. The main reasons are that I prefer to buy locally, organic produce is often more flavorful, and non organic produce seems to be HUGE (in size) which creeps me out and the fruit never really smells like... well... the fruit. I'm not obsessive about it, but I do choose organic when I can. When the Sarge is gone, I'll be eating only local, organic produce as part of a largely vegetarian diet. I will eat organic chicken and grass fed beef
occasionally b
ecause cooking for one allows me that kind of flexibility and let's be honest.. I'm an omnivore.
AS for homemade. We've pretty much nixed all canned goods with the exception of tomato products and Rotel (which, I guess is also a tomato product). I don't think ALL canned foods are bad but I don't like studying labels so I just skip that section. I make cream soup bases when a recipe calls for cream of "...". I believe in WHOLE, full fat varieties of all food. Then, if I can only have a handful of something, at least it's a tasty handful! I make all of our bread (hot dog and hamburger buns included!) partially because I am creeped out that it takes store-bought bread a month to mold, and partially because I just like making bread. Everything in my house is homemade, from scratch (except sausages and pepperoni). The only ingredients I buy are base ingredients or items with 2-5 ingredients (like butter, pasta, etc.). Occasionally I do buy tortilla chips, but I make our salsa and guacamole. I might buy Ritz crackers when I'm feeling feisty but that's about once a year.
I don't talk about it much (I don't think I do anyway) but I prefer life this way for now. Will I ever change? I'm open to it as I know things change when you have kids, etc. But, my hormones are out of balance so I'm picky about hormonal meat. Also, blood pressure is an issue in the Black community so I want more control over what goes into our bodies. So there's my abridged discourse on "clean" eating.
4. What book/TV series would you recommend for a friend on bedrest?
TV: How I Met Your Mother, Breaking Bad, and Duck Dynasty reruns! I have never been much a TV show person, but recently the Sarge and I have found some fun stuff on television. I'm saving up a bunch of shows to watch on Netflix while he's deployed so pretty soon I'm going to be as saturated as anyone else. Oh well!
And books, well, honestly I would recommend anything from Beth Moore or Jen Hatmaker. In fact, if you're on bedrest, how about ALL of Beth Moore and Jen Hatmaker? Just saying. Also, Redeeming Love (I know, I'm late) is a fantastic read. I've read lots of books that I thought were worth reading (One Day, the Emily Griffin "Something Borrowed" saga, Beautiful Creatures and any Twilight book, The Time Traveler's Wife, The Hunger Games trilogy, Diary of a Mad Fat Girl, pretty much all of the Sookie Stackhouse books, yes, even the Fifties.....) but most of my best books have been from curiosity and browsing the 3.99 and under section of NOOKbooks. So that's what I would recommend. Read all the $.99 books and a couple $2.99ers or so, and you'll read your way right out of that bed!
5. So, they say it's Spring now...what does your "spring" look like at this very moment?
It's 51 degrees and clear in Central Florida -- perfect for me. But give it a few hours. I'm sure it will be 85 degrees before long!